The most frightful day of the year is soon to be here! Halloween is sure to give people of all ages a scare! But, when it comes to your children, being a little prepared can ensure they will enjoy this spooky day just the way you want them to, without any unplanned frights like an eye infection. Your little one is probably already excited for Halloween, and may even have a costume picked out. But is it safe for his or her eyes? Check out this week's article all about Halloween children's eye safety tips.
Many children trick-or-treat on October 31st in their neighborhoods. It is usually dark, and sometimes even rainy. Conditions that are less than optimal when you have a Halloween mask on and are trying to navigate from one house to another as quickly as possible for treats! Although Halloween masks may complete a costume, they sometimes are made with tiny eyeholes. Seeing out of one of these masks can be difficult. Cutting larger eye holes and having your child only wear their mask when they approach the next house's front door can help them be safe. This is one example where a small adjustment can avoid a big injury, check out the rest of our tips below:
Makeup safety: Ensure your child's make-up is safe. The Canadian Association of Optometrist states children's make-up should be hypo-allergenic and includes only approved additives, a list of recalled products can be found here. Any make-up around the eye should be for the eyes! I would suggest to parents to avoid putting makeup on their children's eyes especially if they are young. Children's skin is generally more sensitive than an adult's – the last thing you want is an allergic reaction right before trick-or-treating! And they may end up rubbing their eyes inadvertently, which might cause some makeup to enter the eye and cause irritation. If makeup is being worn then it should be worn properly. Check out our eye-makeup do's and don'ts blog here.
Costume safety: Besides making sure your child's costume allows for his or her vision to be clear and unobstructed, parent's should also ensure that the rest of their costumes are safe too! Sharp items, like wands, can be potential dangers to your child's eye. Because many children are usually carrying treat bags, holding a sharp accessory can be too cumbersome. A slip or fall could cause a serious eye injury especially for younger children under the age of six. Offer to hold your child's accessory while they walk house to house and provide it to them when they are at their next house! Or if you think your child just isn't responsible enough for such an accessory, choose a costume that will be safe for them and others!
I see you: Being seen is important on Halloween! Children should wear bright, reflective clothing that is visible to other pedestrians, motorists, and bicycles. Include the added touch of a lantern, lighted up treat bag or a good old flashlight, so your little trick-or-treater can be easily seen by others!
Fireworks: Children should not be handling fireworks, including sparklers. Eye injuries caused by fireworks are all too common in children. These types of injuries are preventable. View firework displays from a safe distance.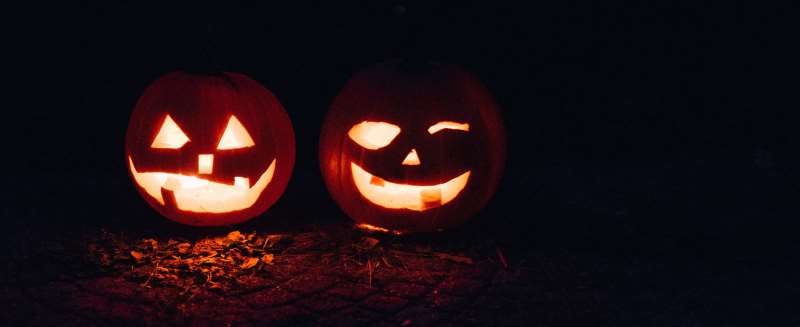 It's important to stay safe during Halloween, but things can, and do happen. So, if you think your child has reacted badly to their eye-makeup or accidentally poked themselves in the eye, see your family eye doctor as soon as possible. If it is an eye emergency, and your optometrist is not open, go to the nearest hospital immediately. Eye injuries require prompt care and attention. Waiting could severely affect your child's eye.
Do you need the professional help of an e
ye doctor? Give us a call or easily book online with Dr. Sharma! 
We hope you have a safe and Happy Halloween!