Finding a new eye doctor can be daunting. Where do you start? How do you know if someone is a good fit for you? Finding a trust-worthy optometrist might feel overwhelming because there are so many options. Fear not, we have got you covered in this week's blog post all about things to look for in a Victoria optometrist! Let's begin…
Things To Look For In A 

Victoria

 

Optometrist
You rely on your eyes every day to navigate through the world, so it's important that you trust your optometrist! So where should you begin when looking for a new optometrist?
Does Your Victoria Eye Dr. Offer Advanced Diagnostic Testing For In-Depth Analysis?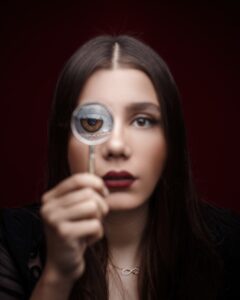 Some patients may be completely unaware of advanced diagnostic testing. This type of testing allows for a more in-depth eye assessment. For example, at Inner Harbour Optometry we provide all patients with the choice of having the Optical Coherence Tomography (OCT) machine test completed during their regular eye exam. This is an advanced diagnostic technology that allows for non-invasive comprehensive retinal imaging in both 2D and 3D. Using light waves, the different cross-sections of the eye can be mapped and measured. The ability to see the different layers of the retina and their thickness, instead of just the surface, improves early diagnosis greatly because issues can be identified before symptoms are even present.
It's important to first be aware of advanced diagnostic type testing. Even if you are not interested in such testing now, it's always nice to know that your Victoria optometrist does offer such services should you require them later down the road. Especially, say if you develop glaucoma, instead of having you be sent off to a specialist's office where OCT's come standard, this test can be conveniently be done right away during your regular eye exam. This reduces stress and anxiety for many as they do not need to wait for an additional appointment.
What Is Your Local Victoria Eye Doctor's Location & Hours?
For many people location is everything. It allows for convenience and ease in case of emergencies. In conjunction with the location, hours are equally important when deciding on an eye doctor. Optometry clinics not open in the evenings or on weekends may not be a right fit for you and your family. For example, if you generally see your optometrist during work hours, but happen to have an eye emergency on the weekend, is your clinic open? If not, you may be forced to see an unknown eye doctor or have to wait in a long line at your nearest hospital.
How Does Your Victoria Optometry Office Handle Emergency Cases?
Every patient should ask their prospective eye clinic this question: "How Does Your Optometry Office Handle Emergency Cases?" Many times successful optometry practices book up week's in advance, but at Inner Harbour Optometry we always keep space open for emergencies. We know eye emergencies are best handled first by your optometrist. Why? An optometrist has the necessary equipment to assess your eye emergency as well as on a priority basis send you to a specialist if need be. It beats going to your local hospital where you may be asked to wait for hours. When time is not on your side, getting immediate medical attention can make the difference in whether your vision is restored or lost.
Do You Feel Comfortable Asking Questions?
They are your eyes, so if you have questions at any point during your visit to your eye doctor you should feel completely comfortable to ask them. You shouldn't feel rushed, or intimated to speak up. It's important that not only is your optometrist approachable, knowledgeable, and clear, but that his or her support team is too. Because a good support team can help ensure you experience during and beyond is up to par. By ensuring things like future bookings, reminders, additional costs, and insurance is all done properly and efficiently.
Aside from the points listed above, it's important you get a good "feel" from your eye doctor's office. Whether that means a friendly smile when you enter or a child feeling especially welcomed at his or her's eye doctor's appointment. Sometimes the little things make the biggest differences.
We hope the next time you are need of a Victoria optometrist, you'll keep us in mind. You can easily book online or give us a call to book with Dr. Sharma. 
We are your trusted family eye care centre.